Products
Bolgabasket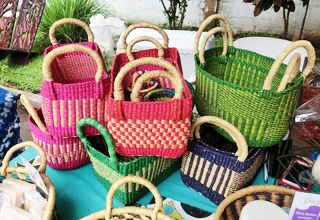 Bolga comes from the word Bolgatanga, which is capital city of the Upper East Region in northern Ghana and is located closer to the border with Burkina Faso.
Bolg-baskets are made from the straw called Elephant Grass. As its name suggests, Elephant Grass has excellent strength and makes very strong baskets. Various kinds of baskets are made from the straws dyed various colors by hands.
We instruct, design and give color combinations which match market demands and hence good livelihood for weavers. At the same time, we are producing our original models and new models from customer's opinions.
Our baskets can be used in so many different ways, for grocery shopping as Eco-basket, for your magazines or green pot in living room, for your cosmetics and accessories in bath room. In this ways, our baskets are used in various scenes
We also recommend our original gift sets packed with our Shea butter products and Baobab oils, or you can fill diapers to make "Diaper Basket" for baby shower gift!
Unrefined Shea Butter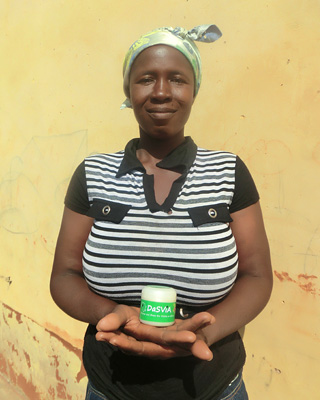 In Ghana, Shea butter is called "Women's Gold" and has protected women's skin and hair from strong sun shine and ultraviolet rays. Our Shea butter is made from quality Shea kernel by hands without any chemicals. Our 100% natural unrefined Shea Butter is "Queen of Moisture" with rich in nutrition and has high moisturizing power to help keeping moisture in the skin.
Our brand name "DAGA KAAH" means Dagare Oil / Shea Butter in our Shea Butter producing village in Upper West Region in Ghana. Lots of people including Ghanaians believe that Upper West is just hot and dry. However, we have lots of Neem trees, which are evergreen and grow wild, and Mango trees unexpectedly strong against dryness. Vegetable farming is also thriving and we have more vegetables food than in Southern cities. Shea butter made from hands without any chemicals is rich in the amino acids and vitamins which our skin and hair need, Shea Butter is not only valuable as beauty care product but also used as food oil and for flavor.
The Unrefined Shea butter gets hard and whiter in cold climate. However, once you apply it to skin, it blends into the skin and wrap in moisture, and then protect from dryness. Our DAGA KAAH is also appreciated by lots of people such as mothers who apply it to their babies, nursery teachers whose hands and fingers are licked by their kids, and pet owners licked by their pets because it is safe for them since it is used as edible butter in Ghana.
Try "DAGA KAAH" and wrap your skin in moisture quickly!
Just apply the natural nutrient components of Shea to your skin!
"DAGA KAAH" Series ~ 100% unrefined Shea Butter ~

Original 75g/250g
Fresh Shea butter as it is! Bring anywhere you go!! You can add one drop of your favorite essential oil and make your original too!

Lemongrass 75g/250g The Most Popular
Do you know mosquito doesn't like Lemongrass?! Your skin is protected from dryness and repels mosquitoes if you apply this!!

Lavender 75g/250g
It protects your skin from dryness. Apply it before going to bed to have good sleep.

500g package
Do you want to make your own body cream or soap?! Here is the one which packed fresh and kept fresh because the package cuts air and light contact with Shea butter hate.
Whipped with Baobab oil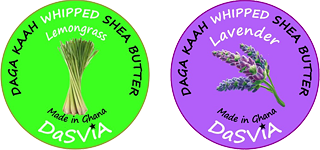 80% Shea butter and 20% Baobab oil
We mix with Baobab Oil and whip, very soft and creamy.
1.Original 75g/250g
2.Lemongrass 75g/250g
3.Lavender 57g/250g
Shea Butter Soap

Made from 70% Shea butter, 20% Coconuts oil and 10% Palm kernel oil.
All are handmade and used for body, face and hair. After bath with it, you won't feel dry!
1.Original
2.Moringa --- mixed with
Moringa
leaf powder
3.Lemon
4.Chocolate
5.Strawberry
Ghana Cloth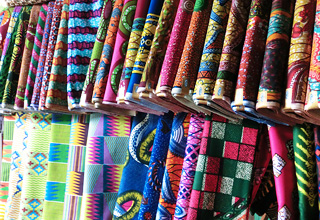 In Ghana, people often select cloth by themselves to make own dresses.
They make not only casual shirts and skirt but also official dresses for ceremonial occasions, and their selection of cloth differs.
They select the clothes based on occasions, red and black is for funeral, white or bright colors is for wedding and church's event. High quality clothes are selected by the couples for their engagement ceremonies and make their own dresses in matching outfits.
Selecting cloth by yourselves and making own clothes is the Ghanian style. One of popular type of cloth called African waxprint is very colorful and has unique designs. The new designs of waxprint are released almost every day. It is a fun to select your favorite from the various designs.
You can find an ancient handmade fabric called batik. The batik is painted o stamped onto plain cloth and dyed. After one or more dyeing, the batik reveal colored patterns and designs differently and unique deigns are made. Also you can make own cloth too. Many companies, schools and any groups order own design and the people make own style of dresses to wear like uniform. They wear it especially on Fridays, which is called casual Friday.
Lately, the cloth made in Ghana is put at a disadvantage because lots of cheaper clothes which designs are copied and made in china have been on the market. However we are particular about "Made in Ghana" brand and introducing carefully selected ones. And we are handcrafting gift bags and PC or digital camera cases from the clothes.
Baobab Oil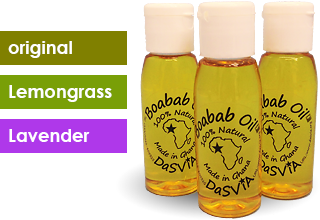 Baobab oil is obtained from the seeds of Adansonia tree. This tree is one of the most characteristic trees of Africa, and it is often called the upside down tree because it looks as though it is growing roots upwards.
Baobab oil is an excellent skin moisturizer, which absorbs quickly into the skin without clogging pore, and it leaves the skin feeling soft and moisturized. Baobab oil contains Omega 3, 6 and 9 fatty acids which contribute toward maintaining a healthy skin.
Our Baobab Oil is produced by hands without any heat and chemicals. We have three types of 100% Natural Baobab Seed Oil, Original(Unscented), Lemongrass and Lavender.
What is Baobab Oil for?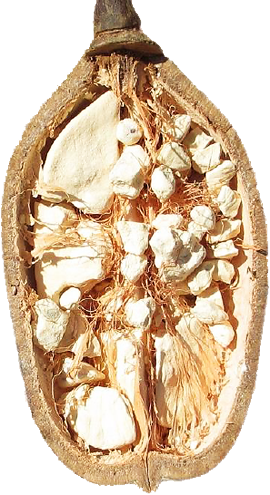 Property

Omega-3, 6 and 9 fatty acid
Basic ingredient of cell membrane to make new skin
Excellent penetration to provide water and nutrients to skin cells

Beauty

Skin moisturizer
Anti-aging
Nourish skin
Improves condition of skin, hair and nails

Healing

Helps alleviate itchiness and
dryness associated with
Eczema and psoriasis,
Sunburn and insect bites,
Scarring and stretch marks.
How to use Baobab Oil?
1. Face skin care

2. Hair conditioner

3. Scalp Massage

4. Facial Scrub

5. Body Massage

6. Hand and Nail Care
Note:
When using baobab oil specifically to moisturize dry skin problems, use the oil every day for a few weeks, until the skin feels better.
Baobab oil is non-toxic and is safe to use on children and pregnant women.
Very light skinned people should avoid rubbing baobab oil over eyelids.
Baobab oil is not suitable for drinking or oral consumption.
Black Soap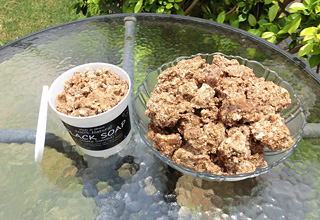 Black soap, also known as African black soap (Alata Samina), has long been used to heal problem skin. It's good for thinning fine lines, evening out dark spots, ease eczema, razor bumps and blemishes.
The texture of black soap is crumbly and it is very soft, it is blackish-brown.
Once dip wet sponge in black soap and stair, it easy lather and become black. The scent is earthy or more Shea butter scent and again very unique from other soaps on the market. Black soap is supposed to be useful for those with oily skin, dry skin, rashes, scalp irritations and sensitive skin.
Black soap is made from the ash of locally produced oils and harvested plants such as plantain skin, cocoa pods and Shea shells. First the barks are sun-dried and then roasted in a kettle or pot at an even, constant temperature, which is important to ensure color, texture and smell. Then water and various oils – palm oil, coconut oil, palm kernel oil and Shea butter – are added to the mixture and stirred for at least a day. After that, the "soap" is left to set for two weeks to cure.
Most of times the soap is made by women. Black soap is traditionally made in west Africa, typically Ghana. The ash itself was often used to heal cuts. The plantain skins give the soap Vitamin A & E, and iron. Because the soap has Shea butter content, it keeps your skin moisture after shower and purportedly also offers UV protection.
African Beads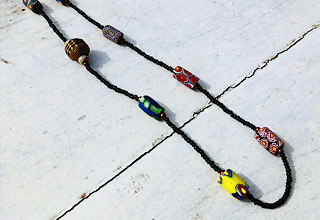 Most of beads in West African countries were used as currency to exchange for ivories and gold in the 15th and 16th centuries and are called "Trade Beads" now.
These beads were manufactured in Europe and used for the trade in Africa. It made foundation of the trade between Europe and Africa. Sadly, they are also called "Slave Beads" because there were used for slave trade.
The beads are very popular and much more valuable because the glass manufacturing is very rare in Africa. Especially it is highly praised in West Africa and Ashanti people wore beads accessories to show their high status and wealth. Their social positions are easily judged depend on the quality, quantity and designs of the beads accessories.
Due to the reasons as mentioned above, beads became popular in Africa and they are still imported from Europe today. In Ghana, people are wearing beads accessories regardless of gender and age for various occasions. Some glass beads are made from crashed trash bins and called recycle glass beads. The accessories made by the recycle beads are getting popular in the world as Eco-fashion.
We are handcrafting the accessories such as necklaces and bracelets from these various kinds of beads and combine with brass Adinkra Symbols which are ancient West African symbols.